Centenary Circle 3/17/19
The Centenary Circle is a circular footpath circumnavigating Chelmsford. The 21 mile long route has been broken into five sections starting at the village green in Galleywood, south of Chelmsford.
The Centenary Circle waymark shows the profile of Queen Victoria and Queen Elizabeth II marking the 100 years from 1888 when Chelmsford was awarded the status as a Borough under the Municipal Corporations Act. News of the Charter of Incorporation was read out to cheering crowds in front of the Corn Exchange : the townsfolk realized that this marked Chelmsford as an up and coming county town, with new civic powers to enact local laws, and to raise and borrow money to spend on land and buildings and municipal utilities. The new borough comprised two wards, North and South, with Moulsham incorporated into the South Ward. Essex County Council was created at the same time, with its main offices in Chelmsford.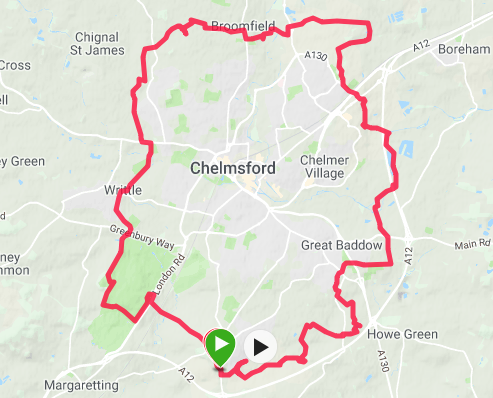 ---
---